Students and faculty say new Planet Fitness cheap and convenient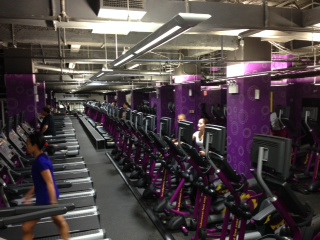 Financial District, NEW YORK--Planet Fitness Health Club opened a new location this fall at 25 Broadway directly across from The Bull and has attracted several members from King's--not least because it costs around one-fifth of what most NYC gyms charge. Planet Fitness charges $10 per month for unlimited access to one home club location and unlimited fitness training at that location, as well as offering other membership packages.
Katie Leach ('17) said that she decided to join Planet Fitness because of "the low prices and the high quality of the gym. Planet Fitness has all the basic equipment that I look for in a gym, and it's clean. Cleanliness is a big factor for me."
Assistant Professor of Business and Economics Brian Brenberg joined the gym as well. "I like to have a gym membership to stay in shape and the price was just so low at Planet Fitness that it seemed like a really low-risk thing to do. I want to stay in shape and the price was really good compared to other gyms, so I thought I'd give it a try," he said.
Planet Fitness offers a variety of machines, including machines that work every muscle group, says Hannah Lezak ('17). She appreciates the selection of free weights, treadmills, ellipticals and bikes.
Leach noted, however, that the weight selection is basic, "and there is not much variance in the weights because they lack medicine balls, kettle bells and similar weight items," she said.
Planet Fitness does not offer group exercise classes, which Leach says is the only con of being a member. "However, I chose to become a member of Planet Fitness because of the low price, so I am essentially saving money that I can use to go to group fitness classes as lower prices elsewhere in the city," she said.
Brenberg said that the only downside of Planet Fitness is that it gets crowded during peak hours, between 5 and 7 p.m., so if you go at that time it's very crowded.
One factor that differentiates Planet Fitness from other health club chains is the unique atmosphere that is meant to provide a "safe, energetic environment, where everyone feels accepted and respected," according to the company's website. The machines, walls, and other features of the gyms are bright yellow and purple, which helps members "have fun without being subjected to the hard-core, look-at-me attitude that exists in too many gyms," says the website.
"I love the atmosphere," Lezak said. "The workers are really energetic and get me pumped to work out. I also love that it's open 24 hours."
Tristan Kelley ('14) agreed: "The customer service is excellent. The staff always has a smile and are willing to answer any questions I have," he said. "My favorite thing about the new location across the street is I can ride my bike from Midtown to the gym, shower, then head to class. It makes it easier to maintain a gym routine with all the other school commitments."
Brenberg said he would recommend Planet Fitness to students. "If you're not staying in shape and getting exercise, it can be hard to focus in the classroom, and Planet Fitness is such a great price - you can't beat the price."