Reagan and Thatcher Win Basketball Competition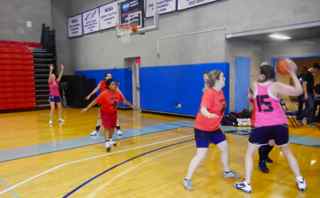 This weekend, Thatcher came out on top over ten Boom with a final score of 13-12 and Reagan beat Churchill in overtime with a score of 34-28.
King's held its annual basketball competition at Baruch College on Friday and Saturday nights. For the first time, the tournament was split up over the course of two days.
Both Reagan and Thatcher won all of their preliminary games before competing in the finals on Saturday against Churchill and ten Boom, respectively.
The final games were fast paced and well-matched.
In the boys' final game, Reagan beat Churchill 34-28 in overtime, making for a heated final quarter.
Thatcher played ten Boom in the finals and won by one point making the final score 13-12.
Bonhoeffer took third place after beating Lewis in the consolatory game on Thursday night. QEI and Barton also tied for third after losing in the semifinals.
The addition of referees and the two-day split this year made for a well-organized tournament with a lower injury toll than years before. More than 50 students came out to support the players, making for a loud gym and a high-paced set of games.