The King's College Athletics Joins NCCAA and USCAA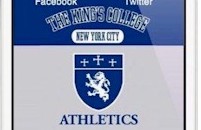 Empire State Building, NEW YORK– After 12 years of developing an athletic program, The King's College has now received membership into the National Christian College Athletic Association (NCCAA) and the United States Collegiate Athletic Association (USCAA).
This is not the first time the school has been in the NCCAA. In fact, The King's College was a charter member of the league from 1968 to 1995. The first president of the league (from 1966 to 1973) was a King's College alum, Norm Wilhelmi.
There are 16 teams within Division I basketball of the NCCAA. King's will be in the Eastern Region. For the USCAA, there are 27 teams in Division I and 35 for Division II in basketball.
This is the first time the New York campus of King's has been accepted by the two leagues.
"We will offer men and women's soccer, men and women's basketball, women's volleyball and baseball as official varsity sports starting next year in these leagues," Sports Information Director Grant Olson ('14) said. "Participating in these leagues brings a lot of notoriety and exposure to the school."
Olson continued, noting how the athletic program at the school is now large enough to serve almost all of the student interest.
"I think that it's great that we're in a 'real' league now," basketball and baseball player Jeremiah Gill ('15) said. "Because while it's fun to play, the coaches expect us to sacrifice a lot of time that we could be doing other things in the city just for games that, in a way, don't mean all that much. But that will change next year and most likely draw a lot more willing players."
In addition to the national recognition of the sports program, a website has just been launched for the athletic department at www.tkc.edu/athletics. This is a gateway for both prospective students and current students to find out about the relatively small sports program's happenings.
To aid the popularity of the games themselves, the athletic department has designed a mobile app for both Droid and Apple that lists schedules, times, locations and directions.
"The app allows fans to share photos, videos, chat and even check in at games on their mobile device, in exchange for prizes like athletic apparel from the athletics program," Olson said.
The app will be released soon and will be free.