Edith Schaeffer dies at 98: an interview with her son-in-law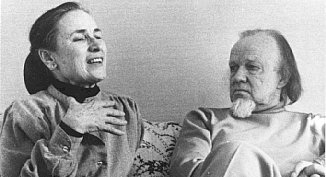 Edith Schaeffer, wife of the late Christian apologist and philosopher Francis A. Schaeffer, died March 30 in her Gryon, Switzerland home of 13 years at age 98. Udo Middelmann, husband of Schaeffer's daughter Deborah Middelmann, notified family, friends, colleagues and students two days later announcing her funeral date and presenting her eulogy. Born Edith Rachel Merritt Seville Schaeffer to Dr. George and Jessie Seville, she was the youngest of the Sevilles' three daughters and was born in Wenchau, China, where her parents ran a school and taught the Bible, Middelman said. She married Francis Schaeffer in 1935 and taught alongside him, working as a seamstress during his years in seminary, making belts to sell and using her artistic and analytic abilities to both support her husband. She joined him in his ministry of speaking, teaching and challenging his students to question their beliefs based on what the Bible taught them.
Together, the Schaeffers ran L'Abri Fellowship, a program for young people allowing them to stay in Switzerland from several weeks to several years and learn from the Schaeffers' instruction. L'Abri students roomed with the Schaeffers or in nearby housing and over meals brought their deepest questions regarding Christianity and the workings of the universe to the Schaeffers.
These meals would last for hours, as students and instructors alike delved deep into the meat of the gospel, answering life's most important questions and realizing the amazing power of a God who loved even the most seemingly insignificant of flawed humanity, Middelmann explained.
When her husband died on May 15, 1984, Edith ended her involvement with L'Abri and joined the Middelmanns in creating The Francis Schaeffer Foundation. She continued their work by writing 17 books but also further pursued her interests in the world of art, music and dance, enjoying the opportunity to meet musicians like YoYo Ma and B.B. King.
She attended the church her husband and later Udo Middelmann pastored, and according to her wishes her funeral will be conducted at Village Church of Gryon on Friday, April 19th at 2 PM. At a later date that is to be announced, she will be buried next to her husband in the United States.
Middelmann has requested that donations made in his mother-in-law's honor be sent to Francis Schaeffer Foundation, Jermintin 3, CH -1882 Gryon, Switzerland.
"We hope you will thank God for the life and work of Edith Schaeffer wherever you live," Middelmann said.