Empire State Building Renovating for Greater Energy Efficiency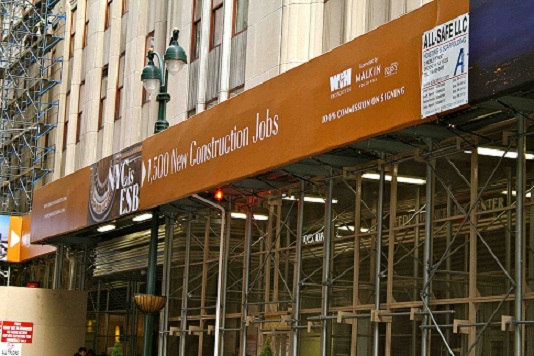 Empire State Building, NEW YORK– In honor of the Empire State Building's 80th anniversary, the building's maintenance crew is using new techniques to improve energy efficiency and restore the iconic building's original style.
Currently, construction is on the 33rd Street side between Fifth and Sixth Avenues. A construction hoist is being installed to make new elevator renovations run smoothly.
The Empire State Building is partnering with Otis Elevators to create elevator renovations that will reduce the building's energy cost by 38 percent, or 4.4 million dollars a year.
The hoist will be used like an outdoor elevator, traveling between the ground and the 29th floor. It will transport construction materials and workers without any disturbance inside the building.
According to a press release by W&H Properties, the hoist "will not affect the iconic view of the building, and, because the equipment is new and modern, it is quiet."
Due to an increase in new tenants, the hoist will also be used for tenant renovations. This allows construction to take place and keeps materials and construction workers out of common areas.
"This hoist is a positive symbol for the building and for the city," building supervisor Anthony Malkin said.  "It reflects the whirlwind pace of leasing at the property and the job creation our $550 million Empire State ReBuilding program is bringing to New York."
Also included in the Rebuilding Program are lobby renovations that intend to restore its original Art-Deco style. All materials used are original materials from the building's initial lobby.
A press release by Otis Elevator Company said the building is getting worldwide attention for its renovation process and will most likely be used as a model for future renovations to other buildings.
More information about the ReBuilding Program can be found at http://www.esbnyc.com/current_events_esb_renovation.asp.