King's Comedy Club Performs Open Mic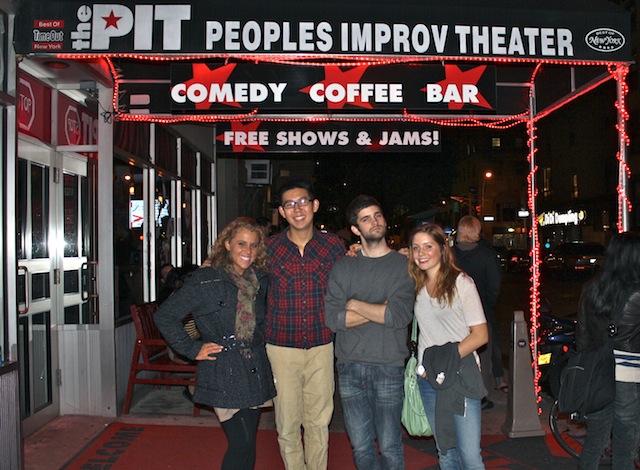 In an effort to prepare students to write and perform stand-up comedy, the King's Comedy Club performed at "Open Mic Night" at Peoples Improv Theater (PIT) on Tuesday Oct. 25.
Every Tuesday night at 11pm, the PIT hosts Open Mic Stand-Up Comedy Night. Everyone is welcome and comedians take turns telling jokes for about two hours.
Four members of the King's Comedy Club did a one minute and 20 second comedy routine for a large audience.  Although it was their first time performing, the group seemed to be pleased with audience reaction.
"I was super nervous, but people laughed," Caroline Marceau ('14) said. "I plan to perform again. I am pursuing broadcasting and it would be sweet to have a talk show one day, so this is good practice."
Several King's students also went to the comedy night in support of their comedic friends.
"I thought they all did really well," Anne Marie Elliott ('15) said. "They were really funny, the rest of the audience seemed to enjoy them and all their jokes were clean as well."
Although the Comedy Club only recently had its first meeting, on Monday, Oct. 24th, the club members already have a clear goal for the future of the group. According to Varut Chee ('15) the purpose of the new club is to learn comedy skills and prepare students to write and perform comedy shows as Christians.
"We have a strong emphasis on clean humor," Chee said. "As comedians, we really strive to be the salt and light in the world of stand-up comedy."
The club plans to continue to have regular meetings, improve their comedic skills and keep performing at future Open Mic Nights.
To learn more about the King's Comedy Club or PIT contact Varut Chee or visit www.ThePIT-NYC.com.
"It is so sweet to see God throwing some of us Christians into the comedy PIT," Marceau said. "Literally!"