D'Souza's trial date set, U.S. senators question whether case involved selective prosecution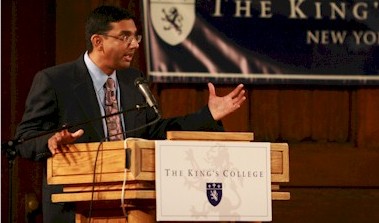 Lower Manhattan, NEW YORK--Dinesh D'Souza appeared in federal court before U.S. District Judge Richard M. Berman Tuesday for a pretrial status conference. D'Souza's trial is scheduled to take place May 19. D'Souza's attorney, Benjamin Brafman thinks the trial can "easily" be done in a week. "I wouldn't be surprised if this took less than a week with jury selections and summations," Brafman said.
Prior to his arraignment on Jan. 24, D'Souza surrendered his passport. Brafman requested in court Tuesday that D'Souza be allowed to attend two speaking engagements outside of the country in Cavo, Mexico and Australia. These events would be to promote his upcoming film, America (June 2014) as well as his upcoming book. Should this request be granted, Brafman offered to provide the judge with an itinerary.
"At the end of the day he has no intention to flee and every intention to clear his name," Brafman said.
Brafman claimed that D'Souza isn't a flight risk because of the aforementioned movie and book releases and because he has a daughter who is a freshman at Dartmouth. According to Brafman, people generally flee before they surrender their passport and appear in court.
Carrie H. Cohen, Assistant Attorney for the United States, claimed that D'Souza is a flight risk. "We are three months away from the trial date," Cohen said. "He shouldn't travel internationally for speaking engagements."
D'Souza hasn't yet been granted permission to leave the country.
According to Brafman "the prosecution was supposed to raise a motion in limine for selective prosecution." A motion in limine is a request for the judge to either include or exclude certain information (in this case selective prosecution) from the testimony. Selective prosecution is prosecution based on unjustifiable grounds such as race, religious or political affiliation.
If this were ruled a case of selective prosecution, D'Souza could not be held criminally for breaking the law. Instead, he would be considered a victim of unjust discrimination. However, neither the prosecution nor the defense raised this motion in court. Berman gave them until April 17 to do so.
D'Souza has numerous outside supporters who think that he may have been selectively prosecuted, including four Republican senators, Charles Grassley, Ted Cruz, Mike Lee and Jeff Sessions, who wrote a letter to FBI Director, James Comey, regarding D'Souza's trial. The letter asks Comey to answer 12 questions that would help "explain the details of these routine reviews and provide context to those who may be skeptical of the origins of this investigation."
D'Souza appeared on Fox's Kelly File Feb. 21. Though he was unable to comment on the details of the case, D'Souza acknowledged, "I'm a public critic of the president, and I do recognize that this has made me, to some degree, vulnerable to some forms of counterattack."
D'Souza will appear in court May 15 for a final pretrial conference. Brafman told Judge Berman, "My guess is we'll see you at the trial."