Brooklyn's Kent Avenue announces last call for live music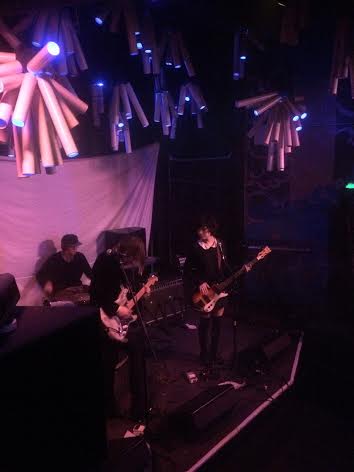 Brooklyn, NEW YORK -- Glasslands Gallery, founded in 2006,  announced in Oct. that it will draw the curtains following its last show on New Year's Eve. The closing of this unique space marks yet another Kent Avenue area concert venue put out of business this year, following 285 Kent in Jan. and Death By Audio in Nov. New York nightlife used to consist of a cache of music clubs as numerous as the styles and sounds that characterize the versatile city. The demand for live music still lives on, but many of the venues have lost the uphill battle with New York real estate prices. Kent Avenue is the beloved stomping grounds of Williamsburg concertgoers, importing a variety of local and up-and-coming indie music acts. Located at 289 Kent Avenue in South Williamsburg, Glasslands is "a converted warehouse, formerly a homegrown community art space turned psychedelic venue partyhaus," according to the venue website.
King's student Emily Castelli ('17), who attended one of Glassland's final performances, said, "[Glasslands] was a great center for live music, and I really liked the lights and atmosphere. It's just not on a very high-traffic street. It is quite a long distance from the subway, especially when [one is] traveling in this kind of cold weather."
The Kent Avenue venues aren't the only ones struggling, however. New York City has bade farewell to many of its music hotspots over the past decade. Most notably, the legendary CBGB's closed its graffiti-plastered doors in 2006 after 33 years of serving punk rock and New Wave music to the East Village community. Nearby, The Bottom Line, a Greenwich Village club that hosted a variety of pop acts, called it quits in 2004 after a 30-year run. Roseland Ballroom, a center for all kinds of arts since 1919, hurt the Midtown music scene when it shut down in April after nearly one hundred years of operation.
Today Williamsburg rent surges, as Bedford high-rises become the golden mean of upmarket dwelling and youthful atmosphere. If landmarks such as CBGB's were destined to become fodder for the Bowery's gentrification—signing off its 33-year lease to a luxury fashion boutique—then small, independent venues such as Glasslands never stood a chance.
But, as they say, the beat goes on. CBGB's now operates as a radio station and annual music festival, bringing music to the city in a brand new way. The site of Glasslands Gallery is soon to become the new headquarters of Vice Media, according to Vice.com. Vice is a multimedia company whose music-based content and record label will keep the music of Brooklyn in heavy rotation.
"Nothing is forever," Wendy Miranda, a student studying music management at Bergen College, said. "As our old favorite venues close down, newer ones with potential will open up."
Miranda, who attended the 2013 CBGB Festival in Times Square, has stood by the company through its reincarnation, and understands the need for turnover. "We have to make way for a new generation of music."