D'Souza denies allegations of affair, accuses WORLD of libel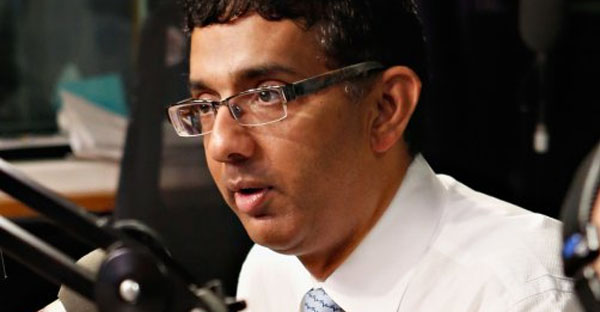 As the TKC Board of Trustees continues to discuss Thursday the public allegations President D'Souza faces, D'Souza has denied parts of WORLD Magazine's report in an interview with Christianity Today and an opinion piece on FoxNews.com.
D'Souza condemns WORLD's article and said it gives a false impression he had an affair. D'Souza has lived in separation from his wife for two years, and he did not realize many Christians would have qualms about a Christian's engagement before finalizing divorce, CT reported.
D'Souza also claims WORLD committed libel by fabricating a quote that claims D'Souza told a conference organizer "nothing happened" after an overnight stay in a hotel with his then fiancée, 29-year-old Denise Odie Joseph II. According to D'Souza, he never shared a hotel room with Joseph in Charlotte, North Carolina and Smith never asked him about it.
"I met Denise three months ago," D'Souza wrote for Fox. "We are not and have not been having an affair."
D'Souza and Joseph have called off the engagement for now.
"The approach in the article [in WORLD] ... is a clear effort to destroy me and my career," D'Souza told CT. "To me, that is a kind of viciousness masquerading as righteousness. That's what makes this deplorable and sad."
King's faculty met Wednesday at noon for a regularly scheduled meeting and among routine business, discussed D'Souza's predicament. Faculty declined to share further information.
The TKC Board also met Wednesday at noon and did not break until after dark, missing a scheduled dinner with 20 students selected from their Houses. The Board's quarterly meeting was already scheduled for Oct. 17-18. The Board has 12 members, including chairman and past King's president Andy Mills and D'Souza. D'Souza was present for part of the meeting and talked to CT Wednesday afternoon.
WORLD's article "has every sign of being a vendetta," D'Souza told CT.
Former TKC provost Marvin Olasky left the college soon after D'Souza became president and is now the editor-in-chief of WORLD.
"There is no question that there was a bitterness in Marvin's resignation," D'Souza told CT.
D'Souza wrote for Fox that while on the search committee to hire a TKC president, Olasky griped D'Souza "was seeking to make King's a non-denominational 'mere Christianity college' in the image of C.S. Lewis. This for Olasky was simply intolerable. Having nursed his grievance for two years, now apparently Olasky is using World to continue his vendetta."
WORLD's vice president, Warren Cole Smith, reported the story published Tuesday, titled "King's Crisis." Smith was an editorial consultant at King's before D'Souza ended his contract.
Smith reported D'Souza introduced Joseph as his fiancée to at least three people at a conference in South Carolina in late September.
D'Souza has lived separately for two years from his wife Dixie of 20 years and filed for divorce Oct. 4, although he says he began the process weeks before filing.
Smith denied D'Souza's accusation of wrongly-motivated journalism.  "It is simply not true," Smith said. "It's a story we did not pursue, but once we came across it, we made a pretty straightforward journalistic determination that this is a newsworthy story."
D'Souza has not yet addressed the student body regarding the allegations.
"I definitely want to be wary of the discussion that's going on in terms of attempting to tear down the college," Student Body President Sam Tran said.
A student wishing to remain anonymous distributed flyers Tuesday titled "The New Gadfly," named after a now-deceased student publication called The Gadfly. The flyer calls for the removal of D'Souza and claims "the academic excellence of our school has been underrepresented by Dinesh D'Souza," "political advocacy, at least in the way it has been executed by our president, is un-academic," and "we have now been given a clear example of our president's disregard for Christian convictions."
Tran said D'Souza and the Board need "a lot of prayer."
The Spiritual Life Project, which meets in Classroom 516 Thursdays at 7 pm, invites students to join in prayer for the college. Former Spiritual Life Director Ray East will speak.
Vice President of Student Development Eric Bennett assured the Empire State Tribune he will communicate swiftly to the students information he learns. The Board is expected to make a decision Thursday, Oct. 18.
"Whatever the decision is, I'm prepared to stand by what the Board is going to come out with, only because I trust them as the guiding members of the college," Tran said. "And if people don't agree with me, I don't know what to say except, I'm sorry, but they're the Board of Trustees and you're a student."