More Than 50 King's students volunteer at NYFW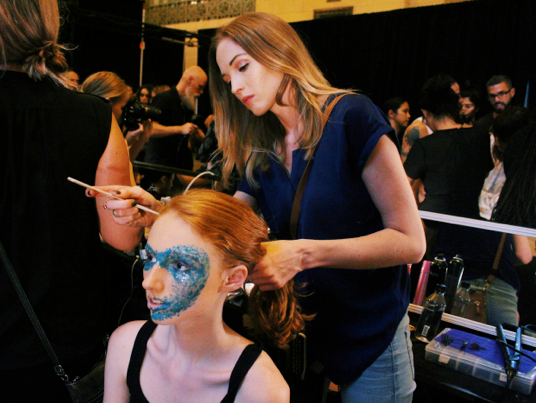 The King's College is not a fashion school. "Fashion Design," "Fine Arts," "Jewelry Design" and "Textile Development and Marketing," all of which are academic programs offered at the Fashion Institute of Technology (FIT), are foreign to the King's course map. In a city that is home to schools like FIT, Parsons School of Design and Pratt, King's does not usually come to mind when brands, designers and fashion moguls are looking for volunteers, extra help or interns. But this week, a number of King's students got to volunteer at one of the fashion world's most highly anticipated events: New York Fashion Week.
More than 50 students from King's poured into the historic Vanderbilt Hall at Grand Central Station on September 13 to assist the creative minds at FTL Moda in producing one of the many fashion shows that will hold the attention of the world this week.  FTL Moda received much media attention last season for featuring several disabled models in their show, something they repeated this season, which included featuring rising star Madeline Stuart, a teen model with down syndrome. The relationship forged between FTL Moda and King's at New York's Fall/Winter '15 Fashion Week this past February has clearly been valuable to both parties - last year FTL Moda asked King's to send 10 students and this year they asked for 50. At the volunteer information meeting held at King's prior to the events, over 70 students attended and expressed interest in the opportunity.
With the help of these students, FTL Moda represented six international designers on Sunday, with Brazilian designer Carmen Steffens spearheading the show. Her collection used gold embellishments to bring an urban feel to the more Brazilian animal prints and unconventionally-placed cutouts. The collection attracted actress Drew
Barrymore to the show. Barrymore left her front-row seat immediately after Steffens' collection was presented to attend an exclusive "pre-after party" of sorts with the designer. Several King's volunteers were permitted into this private affair to work, while many of the show's guests were denied access. Anna's Loud, Wild by Andrea Wild, Archana Kochhar, Alexandra Frida and Hendrik Vermeulen representing Italy, Germany, India, the Netherlands and South Africa, respectively, comprised the remainder of the show.
King's students were involved in nearly every aspect of the show. Some worked at the front, helping to set up chairs, arrange gift bags and show guests to their seats. Those working in the back did everything from delivering beverage orders to models to steaming the designs themselves to helping models make quick changes during the show.  Some, like Zoie Mercer and Karli Scott, both freshmen in the House of Margaret Thatcher, assisted the make-up artists.  While using their iPhone flashlights to provide a makeup artist with proper lighting, the two had the opportunity to learn about the model seated in front of them.
"We talked to the model she (one of the make-up artists) was working on, Maria. We learned a lot about her. The 26-year-old model grew up in Paraguay  and is studying law. Both of them (Maria and the makeup artist) were so sweet and took pictures with us," said Scott. Mercer described the model as, "incredible....Maria was so kind and patient." Mercer was impressed by the drive and dedication she saw in the people she worked with and both described the day as an incredible experience.
When they signed up to volunteer, none of students imagined that they would be asked to walk the catwalk, but that is precisely what happened to Mary Ellen Sousa, Anastassia Gliadkovskaya and Kyra Rooney. At some point, each of the three were mistaken for models, and when they explained that they were merely volunteers, each was told that they were going to be used as a model anyway. Sousa, a freshman in the House of Truth, was scouted by FTL Moda's Creative Director, Pablo Patoné.  She was both surprised and flattered to walk the runway in one of Hendrik Vermeulen's couture dresses.  While she was a little nervous at first, Sousa told EST that "the other models were so nice and helpful and I ended up having an amazing time." Sousa also had the opportunity to model for the editorial shoot FTL Moda held for its designers on Wednesday at the Fitzpatrick Hotel, Manhattan location.
Kyra Rooney, a freshman in the House of Clara Barton, was recruited while assisting in makeup and modeled two looks for Wild. The looks she modeled included letting her hair down and walking the runway in bare feet, lending a dark and earthy vibe to her appearance. Rooney felt that they were "totally similar to who I am, which made the experience that much more incredible and real."  Rooney was incredibly nervous before the show, "I felt like I was going to throw up," she said.  In spite of her nerves, Rooney said that she will never forget this opportunity or how it felt to walk down the runway.