Fashion that gives back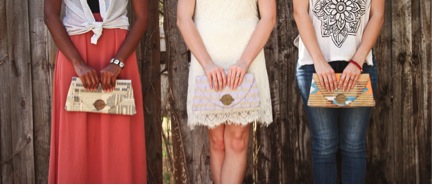 Duty--one word can make all the difference. This year's Interregnum theme of "duty" highlighted the importance of assessing what role duty should play in various aspects life. Here is a list of the "Top 5 Dutiful Designers," all of whom give back to the world in the form of fashion:
1.    Sevenly "One week. One Cause." That is the motto of Sevenly,  an online charity organization founded by Dale Partridge. He believes the three-fold problem of charities is the lack of awareness, funding and following. Sevenly says it's the solution. Every week, the organization chooses one charity to sponsor. After the charity is chosen, the organization's artists design male and female t-shirts inspitred by the chosen charity. For each T-shirt sold, seven dollars goes to the charity at the end of the seventh day. These -shirts provide a fun, fresh way to help the world through a unique company.
Shop: www.sevenly.org
2.    Alice & Whittles Alice & Whittles's motto is "Producing a simple shoe, made with respect." This new company offers a modified take on the traditional French espadrille. The vivid colors, bold prints and distinct embroidery represent the natural beauty that the founders, Sofi Khwaja and Nicholas Horekens, enjoyed during their journeys in India and France. This company goes back to the basics. The shoes combine Indian fabric with French crafting. Sofi and Nicholas work directly with farmers and hand weavers in India and skilled artisans in France. This process allows all workers to benefit. It serves as a sustainable way to reduce poverty and to increase self-sufficiency.
Shop: http://alice-whittles.com/
3.    Market Colors Market Colors is a "nonprofit organization dedicated to mitigating financial hardships and improving the quality of life of the impoverished in Africa," according to its website. Lizzie Wirgau, Founder of Market Colors, decided to create this organization in order to give back to Malawi, Africa, a region she had visited on mission trips during college. Market Colors sells the products of African craftsmen through their e-commerce website. Each product is 100% handmade and is accompanied by a product card, which gives information about the African craftsman who created the product. Its website says its goal is to create "thousands of sustainable jobs throughout the continent."
Shop: www.marketcolors.org 
4.    FEED Projects – Lauren Bush Lauren now for Target FEED's mission is "to create good products that help FEED the world." (www.feedprojects.com). Lauren Bush Lauren, founder of FEED, aids this mission by selling various FEED products including bags, T-shirts and other environmentally-friendly and artisan-made accessories. Her company has already made such an impact that Target wants to join the team. Target plans to sell 50 limited-edition FEED pieces and donate the profits to the charity Feeding America.
Shop: www.feedprojects.com
5.    Krochet Kids International Krochet Kids International's mission statement is "To empower people to rise above poverty." According to its website, the company hopes to develop programs that support the growth of individuals and communities in developing nations. Also, its hope  is to show this generation of its "ability to bring change to a world that is in need." Its values are People, Our Product and Love. It offers stylish handmade products that promote social change.  Shop: www.krochetkids.org