Last-minute looks: Five places to look for the perfect spring formal dress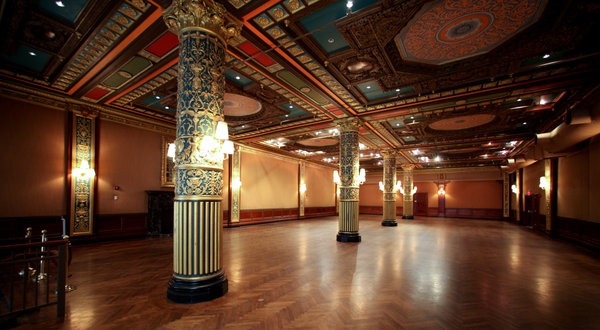 Ladies, the event you've been waiting for all year is quickly approaching. Everyone's panicking about having a date, but we all know that finding the perfect dress is far more important. If you haven't found your ideal dress yet, now is the time to hunt for it! Whether you have a date to Spring Formal or not, everyone deserves the chance to get dressed up, feel gorgeous and have some fun (can anyone say "finals"?). To ensure that you enter through the doors of the illustrious Prince Geoerge Ballroom on April 25 with the proper amount of flair, here are some shops around the city where you can find an affordable spring formal dress.
1. Century 21
At first, Century 21 appears to be just another tourist destination. But amidst the crowds of families scrambling to find cheap clothing, the perfect dress might be waiting for you on a hanger in the depths of the overflowing women's section. If you're looking for a designer dress, Century 21 offers discounts on brands like Marc Jacobs, Nanette Lepore, Alice & Olivia and many others. If you're looking for a place to shop after class, Century 21 has a location just a few blocks away from King's.
Price range: $25-100+
Locations: Financial District at 22 Cortlandt Street Upper West Side at 1972 N Broadway (Broadway and 66th)
2. Nordstrom Rack
Like Century 21, Nordstrom Rack sells discount designer clothing, but their products come directly from Nordstrom stores. The Rack has a variety of brands and styles of dresses, so whether you're looking for a truly formal gown or a simple cocktail frock, there's something for everyone. Be sure to check out the juniors' section, too—you'd be surprised how cute some of last year's prom dresses were.
Price range: $25-100+
Location: Union Square at 60 E 14th Street
3. Buffalo Exchange
The quality (and quantity) of clothing at this consignment shop might surprise you. Buffalo Exchange buys and sells clothing and accessories from local customers. They hand-pick the most desirable items to resell, so the store isn't overflowing with stained, used clothes and they usually have a variety of quality dresses. Like any other thrift store, you might have to dig a little, but even if you don't find that ideal dress, Buffalo Exchange has so many hidden treasures, you definitely won't leave empty-handed.
Price range: $15-50
Locations: Williamsburg, Brooklyn at 504 Driggs Avenue (Bedford stop on the L train) Brooklyn at 109 Boerum Place (Bergen Street stop on the F train) Midtown at 114 W 26th Street (between 6th and 7th Avenue) East Village: 332 E 11th Street (between 2nd and 1st Avenue)
4. Housing Works
If you want to shop for the greater good, Housing Works is the place to go. The Housing Works thrift stores contribute to the company's larger mission of ending AIDS and homelessness. Housing Works is the place to look for an unconventional or vintage dress. They have locations all around the city, so no matter where you live, there's probably a Housing Works thrift store nearby. And maybe that's where you'll find that special dress.
Price range: $20-50
Locations: Park Slope, Brooklyn at 266 5th Avenue Tribeca at 119 Chambers Street West Village at 245 W 10th Street SoHo at 130 Crosby Street Chelsea at 135 W 17th Street Gramercy Park at 157 E 23rd Street Hell's Kitchen at 730-732 9th Avenue (between 49th and 50th Street) Upper East Side at 1730 2nd Avenue (between 89th and 90th Street) Upper West Side at 306 Columbus Avenue (between 74th and 75th Street) and 2569 N Broadway (between 96th and 97th Street)
5. Topshop
Originating in Britain, Topshop has a unique aesthetic that sets it apart from typical American boutiques. Though Topshop is the neither a discount store nor a thrift shop, it offers fair prices for quality dresses with European style.
Price range: $35-100+
Location: SoHo: 478 Broadway (Broadway and Broome Street)
Happy shopping, Kingsian queens! See you on the dance floor.