Five New York Fashion Week street style trends to try this fall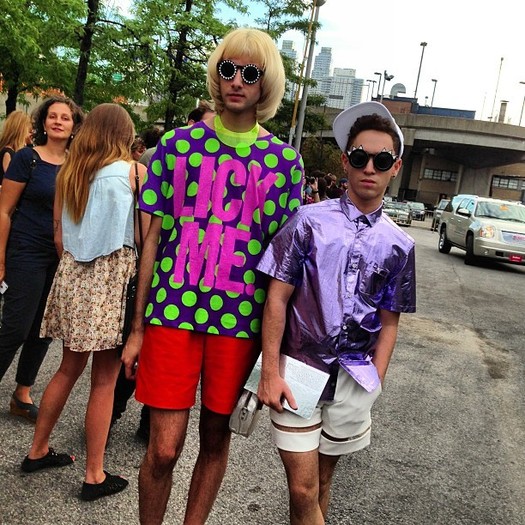 Ah, Fashion Week: a time for all fashion addicts to emerge from their apartments wearing their very best, most complex outfits to show off on the streets of New York City. Some sport pricey designer duds; others opt for affordable and unusual garb from thrift stores and vintage shops.
But no matter what your status, good style is always worth noting. Here are five street style trends I observed around Fashion Week spots last week:
1) Menswear. Feminine lace is officially out of style; androgyny is officially in. In New York, you can get away with any level of masculinity, from classic trousers to a full-on power suit. Or just dip your toe into the trend with some leather loafers or black Birkenstocks.
2) Plaid. Always a great trend for fall, plaid lets you embrace your inner lumberjack without leaving city life behind. A plaid button-up perfectly transitions into fall: during the warm days, you can wrap it around your waist, pulling it on for breezy night walks. If you choose an all-over plaid look (Greg Thornbury style), keep it simple with similar colors on top and bottom.
3) Big patterns. A great way to highlight personal style is wearing bold patterns. A patterned dress requires little accessorizing for the daytime, and an edgy (animal print?) ensemble with glam accessories works for nighttime. If you're not ready for the full patterned look, a floral backpack and bright printed cap add personality without going overboard.
4) Signature shades. Whether you're not quite ready to say goodbye to summer, or would like to shield your eyes from New York crowds, or just like to wear them, sunglasses are essential. This summer, reflective sunglasses in many colorful hues appeared in fashion editorials, festival snapshots and style blogs alike. Whether you like round, cat-eye, or aviator shades, have no fear: unlike the scorching 90-degree summer days, this trend is not going to be left behind with the change of season.
5) Lower hemlines. Let your skirts shine this season, ladies, not your legs. That's right; hemlines have been getting lower and lower on the runway and the streets. Try a pleated leather piece with nude heels, a mid-calf satin pencil with a basic sweater or a patterned dress with sheer peek-a-boo strips to bring modest style into this century without being frumpy.