Two King's interns make United Nations want more King's interns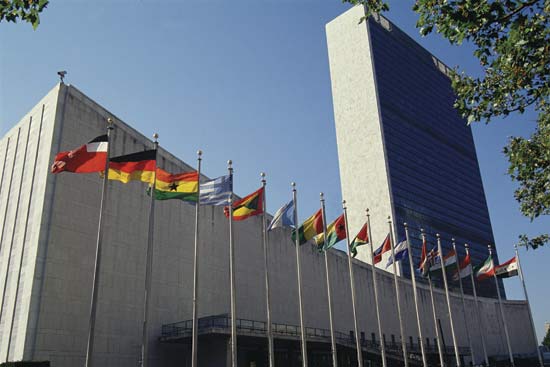 It is relatively rare for an American to get an internship with the United Nations. Interns often hail from countries like Gambia, Russia, Spain and France.
King's students Caleb Zimmerman ('14) and Josh Craddock ('14) bucked that trend and now walk the same halls as Middle Eastern and Hungarian presidents.
Zimmerman interns for the UN Democracy Foundation, a position previously held by Mike Medeiros ('13), who recommended him for the job. Most UN interns are graduate students, but Zimmerman and Craddock are both juniors.
The unpaid internship requires Zimmerman to work at UN headquarters 40 hours a week, but he recognizes the rarity of this experience.
Zimmerman largely credits his opportunity to Michele DeKonty, director of Career Development at King's.
The UN Democracy Fund supports non-government organizations in projects that promote democracy. Most recently, the group has been working on a plan with Kosovo, a country just north of Albania. Zimmerman, originally from Ohio, lived in Albania for four years (grades eight through twelve) where his father served as a pastor.
Zimmerman's fluency in Albanian set him apart from other interns and his foreign experience equipped him with the intuition needed for his international work.
During this year's General Assembly, Zimmerman was asked to be a media escort for the week and was given an all-access pass. Streets surrounding the Second Embassy were closed to the public, but 20-year-old Zimmerman had a front-row seat. He also recently attended a dinner where he was able to hear Iranian president, Mahmoud Ahmadinejad, speak.
Craddock, a long-time advocate of the pro-life movement, works a paid position for Personhood Education, an NGO out of Denver, Colorado, where he grew up.
When the organization wanted to open up a branch in New York, they contacted him. A part-time employee, Craddock regularly attends pro-life and pro-family conferences and meets with delegates, encouraging them to adopt pro-life language in their resolutions.
In addition to this, Craddock writes articles and Op-Eds for Personhood Education and Live Action News, informing the public about events at the UN. Earlier in 2012 he gave a speech in front of the UN Assembly on population and development and protecting youth and life. He attended a dinner honoring Hungarian president, Dr. János Áder, for Hungary's pro-life constitution.
"It helps if you have international experience or know another language," Craddock said, explaining most of the people he works with speak Spanish as a second language. "If you have a lot of background on what you're interested in working on, that can really help as well."
Both Zimmerman and Craddock encourage students seeking internships to be proactive and talk to DeKonty about possible opportunities.
"It's incredible when you think about it. Everyone wants to intern at the UN," Zimmerman said. "King's students can compete."
Zimmerman shared about a time his supervisor approached him, asking for more King's interns and saying: "We get people from Georgetown, Harvard and all of the top schools. Then we started getting King's students, and they're always the best people."
Zimmerman expressed a need for Christian leaders in particular at the UN.
"I've encountered an intense skepticism towards bringing faith into UN work," Zimmerman said. He described an "absence of purpose" at the UN, and explained that though there is an evident desire to fight injustice, it is "vacant" and "only skin-deep."
Craddock echoes that desire.
"Faith should affect how we think about government, how we think about respecting life, and it should shape our policies," Craddock said.
This article previously stated Craddock was a full-time employee. He is a part-time employee. The Tribune regrets the error.