Fashion Week recap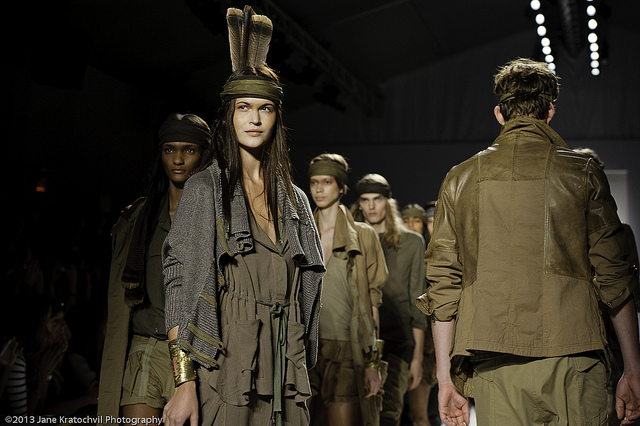 New York, NEW YORK -- New York City kicked off the 2014 fall and winter Mercedes-Benz Fashion Week Feb. 6 displaying over 50 collections. From a new mayor to a runway streaker, these are just two of the many reasons why this week is momentous for those in the fashion industry.
After 12 years at the helm, Mayor Michael Bloomberg has been replaced by Mayor Bill De Blasio. Bloomberg was an avid Fashion Week supporter, and he was greatly missed by the regular attendees. Many people in the fashion industry were hesitant of how New York's newest mayor would act, so it was a pleasant surprise on Thursday when De Blasio announced $3 million in grants that would be rewarded to New York fashion manufacturers, according to NYC.gov.
This season also debuted the enforcement of underage modeling laws. The law, passed in Oct. of 2013, classifies models under the age of 18 as child performers, meaning that underage models, who are as young as 14, must file special paperwork and follow all of the restrictions if they want to walk in a runway show, reported Style.com.
The industry has had its share of creative triumphs. According to Style.com, beloved women's designer Diane von Furstenberg celebrated her brand's 30th anniversary with a special collection of her signature wrap dresses. High end ecommerce website Net-a-Porter, launched their first ever print magazine, which is being compared to the legendary American Vogue.
And then of course there was the streaker. During the Prabal Gurung show, a man ran out onto the runway clad in nothing more than a G-string, black trench coat and a gold crown, reported Style.com. Eventually security was able to chase him down, and the show was able to go on.
From the collections, one can already see prominent trends for the upcoming fall/winter season. Many designers, such as Zac Posen and Suno, featured finely tailored, below the knee skirts, in shades of brown, gray and navy. Rag & Bone's collection is an example of the ongoing trend of sportswear. They prominently featured silky bowling jackets, complete with gold embroidered names on the upper front left shoulder. Women's pants came in only two cuts; loose and wide (as seen in 3.1 Phillip Lim and Jason Wu) or cropped and tailored (J. Crew and Prabal Gurung).
The number one trend to emerge this season is fur. Almost every collection had some variation, from full fur pencil skirts, as seen at Peter Som and Helmut Lang, to fur jackets in every length (Jill Stuart and Cynthia Rowley). This season showed much fewer graphics and patterns in textiles this season than other years. Designers stayed within the traditional fall palate with dark browns, deep greens, light grays, cranberry reds, blues and black. If one thing is for sure, navy blue will be the "it" color of next season.
Every collection featured their own take on the winter coat.  Most showed either long and boxy or short and boxy. Brands like The Row and Altuzarra, featured shapeless wool coats that assured any wearer comfort and warmth. Others, like Tibi or Alexander Wang, had motor-style jackets, complete with broad shoulders and shearling collars.
As with all trends, it is easy to adapt them to personal style. Women everywhere will be happy to see more neutral palettes and feminine silhouettes that can easily be integrated into any business casual wardrobe.